Recent Company news of significance:
• September 29, 2017 "PyroGenesis Comments on Stock Trading Activity; Provides Company Snapshot/Update".
• September 19, 2017 "PyroGenesis Announces Commencement of Advanced Second Phase Lab Scale Testing with HPQ Silicon Resources Inc., Totalling CAN$170,000 which has been Received".
• September 18, 2017 "PyroGenesis Additive Confirms Production, and Orders, for Both Ti-6Al-4V Grade 23 & Grade 5 MIM Cut".
• September 12, 2017 "PyroGenesis Additive Announces Significant Developments to its New Plasma-Based Atomization Process; Higher Production Rates, Higher Yields, Narrower Particle Size Distributions, Lower Costs".
• August 28, 2017 "PyroGenesis Announces Q2-2017 Results: Cash Flow Positive on EBITDA (Modified) Basis; Revenues Increase by 165%; Gross Margins Increase to 48%; Current Backlog $7.64MM".
• August 14, 2017 "PyroGenesis Additive Announces the Development of New Plasma-Based Process to Produce Metal Powders; Production of MIM Cut in Quantity; Ramp-Up Update".
• July 17, 2017 "PyroGenesis Announces Receipt of CAN$445,950 Under Existing Military Contract; Plus CAN$300,000 of Warrants exercised".
• July 11, 2017 "PyroGenesis Announces Receipt of $230,168 Contract for Support During Testing of its Chemical Warfare Agent Destruction System Using Real Chemical Warfare Agents".
------ ------ ------ ------ ------ ------ ------ ------ ------
2) DROSRITETM - 100% Owned
DROSRITE™ recovers metal from dross (a waste generated in the metallurgical industry)
Features & Benefits of DROSRITETM include:
More than 10% higher metal recovery than with third party treatment.

Lower operating cost than using a subcontractor.

Recyclable non-hazardous residue with no atmospheric emissions – zero landfill potential.

Lower carbon footprint, ideally for large greenhouse gas emitters such as smelters.

With in situ treatment, DROSRITETM serves as an excellent tool to control skimming practices.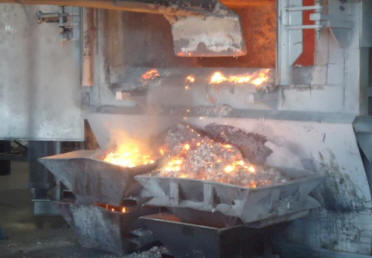 Figure 10. Dross piled up in front of smelter.
The DROSRITETM process can be applied at smelters for aluminum, zinc, or copper. Currently the Company's first sale has been in the aluminum industry.
Dross is a problem for smelters, it forms at the top of hot batches where the metal comes in contact with oxygen, it is an unfavorable contaminated waste product. The traditional method of dealing with dross is to scoop it off the top and set aside to cool down. Recognizing that that the waste still has valuable metals in it, the dross is sent offsite to be reclaimed using salts, the process occurs offsite as salt cannot come in contact with the main smelter batch as salt would ruin the whole batch. The current traditional method of dealing with dross involves cooling, transport, heating, processing, cooling and transporting back – its laborious and costly.
PyroGenesis has developed a system that can be slapped right up against the smelter, take the dross hot, process it hot, and send the metal back hot. PyroGenesis can do this under $100/t compared to $250/t to $350.t using conventional methods. That alone is impressive. On top of that PyroGenesis is getting between 10% to 15% better recovery.
PryoGenesis has its first DROSRITETM client up and running with a full commercial system operational at an aluminum smelter in Mexico, at a subsidiary of an American mining Company. The Company in Mexico purchased the system after successfully testing out a demo unit. So impressed is the first client that they have indicated they require three additional systems, currently PyroGenesis is in negotiations for the second system, negotiating pricing and trying to work out a recurring revenue stream/maintenance contract.
A potential new client from the Middle East has since requested and received a demo unit, they have indicated a need for 4 systems and negotiations on specs and pricing are underway. The near-term pipeline (not yet signed contracts, but likely to occur) for DROSRITETM is b/w US$5M and $9M between the Mexican group and the Middle Eastern group.
PyroGenesis has also sent a demo unit to a big group in India, the business case for India is very compelling as they don't even try to recover from dross, right now they are carting it off to the dump.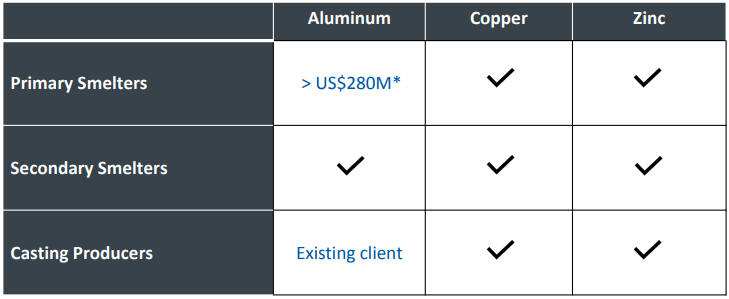 Table 2. (above) DROSRITE potential market, based on world-aluminum.org. PyroGenesis' first client is an Aluminum casting producer.

DROSRITETM is a commercial system that is gathering traction now, if you look at the above target market in the grid, there is Aluminum, Copper, and Zinc divided into primary, secondary, and tertiary producers – that's nine different segments. PyroGenesis' existing Mexico client is a tertiary aluminum producer in the automotive sector, so PyroGenesis' market penetration strategy from here is to leverage the success of that client and approach other producers in the same sector and sell the same thing to them. The group in the Middle East is a primary smelter. Primary smelters alone worldwide represent a realistic potential market of $280M to PyroGenesis. It is estimated that all the aluminum production categories would represent $400M, plus there is Copper and Zinc on top of that.
PyroGenesis should be able to methodically advance the business division toward a snowball effect of managed growth. The growth potential in India alone over the coming years has the very real possibility of exponential growth. PyroGenesis has recently hired a new sales person for this job beginning in 2018, their job will be to visit potential clients and let them know the success of the first client (results speak for themselves), plus the Mexico client has agreed to act as a site-visit demonstration for interested prospects.
------ ------ ------ ------ ------ ------ ------ ------ ------
3) PUREVAPTM - IP owned by HPQ Silicon Resources, PyroGenesis receives 10% Royalty
Developed by PyroGenesis, PUREVAPTM is a patent pending one-step proprietary process that uses a plasma arc within a vacuum furnace to produce high purity metallurgical grade silicon and solar grade silicon from quartz. It is expected that the silicon grades produced by PUREVAPTM could be used for different applications, including solar energy.

Features & Benefits of PUREVAPTM:
One-step direct transformation process.

Lower cost for producing silicon compared to current practices.

Lower CO2 than current processes.

Remove impurities: Phosphate, Potassium, Magnesium, Zinc, Calcium, and other elements.
PyroGenesis is being paid ~$8 million to develop the PUREVAPTM process (to convert quartz to solar grade silicon) for the benefit of HPQ Silicon Resources, however important to note is that PyroGenesis retains IP ownership of any other application the process can be applied towards.
HPQ Silicon Resources is looking to take the process to commercial production and PyroGenesis will receive a 10% royalty off all future revenue generated by the process, with no waiting period. This arrangement is risk-free for PyroGenesis and will be particularly lucrative should HPQ Silicon Resources execute according to its business plan, not only will HPQ Silicon Resources shareholders do very well, PyroGenesis will also.
We urge the reader to take the time to review HPQ Silicon Resources corporate presentation and plans as the projections are impressive. The process is so revolutionary that it could result in the pricing of solar grade silicon to drop as much as 90%.
| | |
| --- | --- |
| Click here to see HPQ Silicon Resources' presentation regarding its HPQ PURVAPTM process, the silicon market, and its very impressive plans. | |
Latest news from PyroGenesis regarding developments surrounding PURVAP:
• September 19, 2017 "PyroGenesis Announces Commencement of Advanced Second Phase Lab Scale Testing with HPQ Silicon Resources Inc., Totalling CAN$170,000 which has been Received".
------ ------ ------ ------ ------ ------ ------ ------ ------
4) Military/environment - 100% Owned
Plasma Waste Processes

PyroGenesis has developed a suite of highly advanced, yet easy-to-operate processes which integrates well with the 3Rs, but which maximizes the energy and/or resource recovery from a vast range of waste streams generated by municipalities or by industry.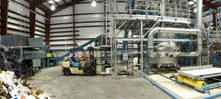 Figure 11. PRRS
PRRS - A Plasma Waste-to-Energy Solution
Proven out by the US Department of Defense (DoD), the game-changing PRRS harnesses the power of plasma to provide industry, municipalities and the defense sector with a comprehensive, all-encompassing solution to waste management, while producing much-needed clean energy to meet our growing needs. PyroGenesis' team of technology professionals has integrated flexibility and versatility into the PRRS platform, giving it the ability to both process virtually any form of waste, and to generate clean energy and marketable construction materials, completely eliminating the need for landfill.

Features & Benefits of the PRRS include:
Available in capacities ranging from 1 to 100 metric tons per day per module.

Processes a wide variety of wastes (MSW, hazardous, biomedical, etc.), transforming it to electricity, steam, hot water, and/or liquid fuels.

Inorganic waste feed transformed to an inert, non-toxic glassy slag, a building material for construction.

A one-stop, waste-to-energy solution for remote communities.

Reliable, easy-to-operate and maintain with minimal manpower requirements.
Using the proprietary two-step plasma-based technology, operating at extreme temperatures under gasification conditions, the PRRS transforms waste to syngas, a gaseous fuel which can then be used to make electricity, heat or liquid fuels, all to the end-user's exacting requirements. Using PRRS, the inorganic fraction of the waste generates a glassy slag which is inert and non-toxic, and has been demonstrated to be effective as a building material for construction.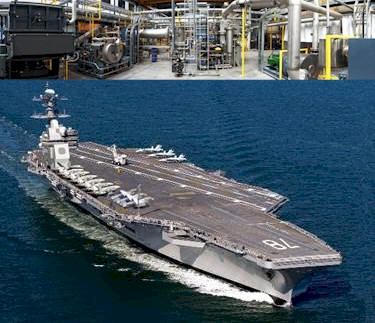 Figure 12. PAWDS Marine, image of client installation. Handles shipboard waste and sludge oil.
------ ------ ------
PAWDS Marine
Recognized by the US Navy as the premier shipboard waste processing technology in the market, the Plasma Arc Waste Destruction System (PAWDS) is the world's most compact, easy-to-operate, high temperature, plasma-based waste treatment system. With one-button rapid start-up and shutdown capabilities, PAWDS effectively destroys combustible wastes such as paper, plastics, food, oily rags, as well as waste oil, all with minimal segregation. Developed by our team in partnership with the US Department of Defense, PAWDS has been specified into all of the Gerald R. Ford Class supercarriers, and has been ordered by their contracted shipyard for their first two ships in this class: the CVN-78 USS Gerald R. Ford and the CVN-79 USS John F. Kennedy.

Available at its standard 200 kg/hour capacity, but adaptable to various means of energy recovery and easily scalable both upward for cruise ships and downward for frigates and destroyers, PAWDS has received from Lloyds Register MED Type Approval for the processing of solid waste and sludge oil, confirming its stature as THE standard in the market.

Features & Benefits of PAWDS for marine use include:
Very compact design: Impressive space savings for newbuilds and retrofits.

Fully automatic / sailor friendly one man operation.

Rapid start-up and shutdown (no refractory/brick).
Bags of waste are fed to a shredder, followed by a mill, transforming the feedstock into a powder, or lint-like materials. These tiny particles (or waste oils) are fed continuously to our patented plasma-fired eductor and chamber, which completely obliterates the waste. The offgases are immediately quenched to prevent dioxin and furan formation, and subsequently cleaned and exhausted to the atmosphere.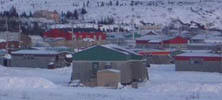 Figure 13. PAWDS Land, idea for remote community waste, mining camp waste, military camp waste, solvents & chemical waste, waste sludge oil from IC engines.
------ ------ ------
PAWDS Land
Already the US Navy's choice for the Gerald R. Ford Class of aircraft carriers, the Plasma Arc Waste Destruction System for Land (PAWDS-Land), being the world's most compact, easy-to-operate, high temperature, plasma-based waste treatment system, is perfectly suited to meet the demands of remote communities and camps (mining, military). Open pit burning generates toxins in the air; open field dumps generates toxins in the water table, and an engineered sanitary landfill is extremely costly in these locations. Developed by our team in close collaboration with the US Department of Defense, PAWDS-Land cost effectively destroys community-generated wastes, while generating excess heat which can be available for heating buildings or for greenhouses, and all the while exceeding local environmental regulations.

Available at its standard 200 kg/hour capacity, PAWDS can be turned on and off rapidly in minutes, unlike standard incineration technologies which need to be kept running to work its best. As such, with its flexibility, PAWDS can accommodate 4 hour, 8 hour or even up to 24 hour operation, all depending on the community's needs or requirements.

Features & Benefits of PAWDS-Land include:
Compact design: five 20-foot or three 40-foot rugged-design containers needed for up to 5 metric ton per day operations.

Fully automated system: one button start-up.

Rapid start-up and shutdown up and running within minutes.

Safe design.

Heat can be captured and reused by the community.
------ ------ ------
SPARC - Waste Streams include; Ozone Depleting Refrigerants (ex. R11, R12, R22), Ozone Depleting Substances (ex. Halons), Super Greenhouse Gas Refrigerants (ex. R134a, R141), Fluorinated Hydrocarbons.
Evolving from PyroGenesis' plasma platform developed for the US Military, SPARC is a highly effective, patented process for the complete destruction of ozone depleting substances and other environmentally noxious chemicals. SPARC is the latest innovation from our team of engineers, scientists and technicians.

Refrigerants and other fluorinated chemicals (CFC, HCFC, HFC, PFC) that often have very high global warming potential (GWP) are fully cracked and safely eliminated using high temperature steam plasma. Already deployed for a major Canadian refrigerator recycler, SPARC can also be used to generate offset credits in the regulated or voluntary carbon markets.

Features & Benefits of SPARC include:
More than "seven 9s" destruction efficiency ( > 99.99999% with R12).

Treats R11, R12, R22, R134a, R141, halons and other PFCs.

Available in capacities of up to 50 kg per hour.

Lowest operating cost, with a quick return on investment (ROI).

Small plant footprint.
Operating with steam plasma as a heat source, the waste is fed continuously to the two-zone plasma reactor. With a reactor temperature of over 1300°C, the steam plasma hydrolysis reaction quickly and efficiently breaks down the waste into carbon dioxide (CO2) and water (H2O). The gas stream is then rapidly quenched to prevent any reformation of dioxins and furans. Acid gases generated by the process are readily scrubbed out of the stream and neutralized, resulting in an offgas that far exceeds environmental regulations.
------ ------ ------
Tactical PACWADS - Destruction of Chemical Warfare Agents (ex. Sarin (GB), Mustard (HD), and VX).
Situations that have recently developed, particularly in Syria, have brought to the forefront the striking need for a safe, versatile, and efficient mobile system, deployable on a moment's notice to eliminate chemical warfare agent (CWA) stockpiles. In fact, the worldwide inventory of CWAs, both home and abroad, poses an immense risk to military personnel and nearby civilians, either from accidental release or from the CWAs entering into the enemy's hands.

Using as a platform the US Navy-selected and team-developed PAWDS process for waste destruction on board the Gerald R. Ford Class aircraft carriers, the Tactical Plasma Arc Chemical Warfare Agents Destruction System, or Tactical PACWADS is designed to rapidly and safely destroy a wide range of chemical warfare agents (CWAs), as well as their precursors reagents in the field. As opposed to the risky proposition of transporting enemy CWAs to another location, putting soldiers and civilians at risk to ambush and to the catastrophic release of these highly toxic chemicals, the Tactical PACWADS would be used in situ to destroy CWAs such as Sarin (GB), Mustard (HD), and VX.

Using a 5000°C plasma torch, the compact Tactical PACWADS reactor and associated self-contained gas cleaning equipment, will allow the warfighter to rapidly set up two readily-deployable, mobile 20 foot containers and safely destroy up to 2 barrels per day of CWAs.
------ ------ ------
PAGV - Bottoms and Fly Ash from MSW Incinerators, Haz./Biohaz. Waste Incinerators, Asbestos Waste.
As the forerunner for our game-changing PRRS waste-to-energy technology, the Plasma Arc Gasification and Vitrification (PAGV) system eliminates future legacy issues for operators of incinerators with a simple process for inerting their grate and fly ash and turning it into a useful construction material. Municipalities, along with managers of incineration operations for industrial, hazardous, biomedical, and animal (slaughterhouse) waste, all can profit from the PAGV by turning their otherwise hazardous ash into a vitrified slag, a glassy, non-toxic, non-leaching material which can be used in wide-ranging applications as aggregate asphalt and flooring, as a partial replacement for cement in concrete, and even as jewelry. Asbestos waste from decommissioning operations is also an excellent use for the technology.

Features & Benefits of the PAGV include:
Available in capacities ranging from 1 to 250 metric tons per day per module.

Processes grate ash and fly ash generated from a wide variety of waste combustion processses (MSW, hazardous, biomedical, etc.), as well as other inorganic waste streams such as asbestos from decommissioning and site clean-up operations.

No liabilities from improper ash or asbestos disposal.

Reliable, easy-to-operate and maintain with minimal manpower requirements.
##