Feature article October 10, 2022:
Evolv Technologies Takes Security Screening to Next Level, Game-changing Technology for Weapons & Threat Detection
Evolv Technologies Holdings, Inc.
Stock symbol EVLV on NASDAQ
Warrant symbol EVLVW
Share data, Capitalization, & Corporate info
Shares Outstanding: ~143.4 Million
Recently Traded: ~$2.09
Current Market Capitalization: ~$301 Million
LTM Revenue: $28.4 Million,
Cash: $270.9 Million,
Debt: $12.7 Million
Corporate Website: https://www.evolvtechnology.com
"Producing the next generation of mass security screeners, Evolv eliminates long entry lines at large events. Smart SaaS analysis eliminates the need to empty pockets, take off shoes, or belts – it's free-flowing. This stock has multiple valuation appreciation opportunity as the list of big name clients grows."
Valuation Advisory: Evolv Technologies Holdings, Inc. (NASDAQ: EVLV) Express Detection System allows large crowds of people to be screened without queuing in a single-file line, they can keep their bags with them and don't need to empty pockets or take off belts or shoes.
Figure 1. (below) Evolv's Express Detection System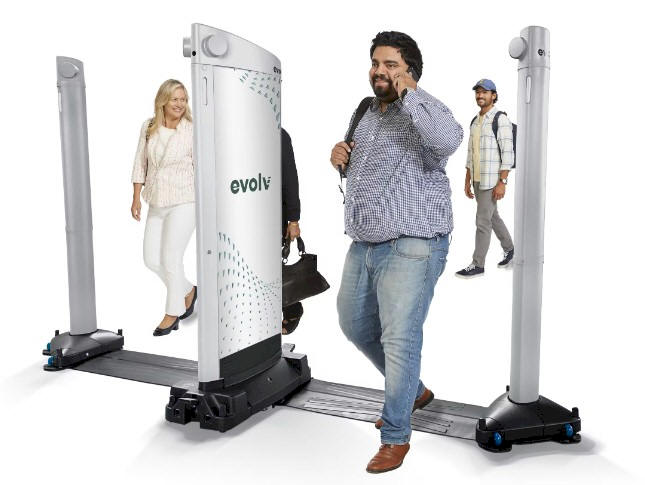 Large companies, well-known venues, and sports stadiums are installing Evolv systems today; e.g. Coca-Cola, Six Flags theme parks, the Lincoln Center, Wynn Resorts, and the Chicago Cubs.

Evolv can lower screening costs by up to 70%; e.g. the Tennessee Titans. Before Evolv, the Titans used about 100 traditional metal detectors. In total, it took 280 security staff to man them all. After installing 17 Evolv Express units, the Titans saw a 66% decrease in staff to just 94 per game. That saved them tens of thousands of dollars, and they also saw an increase in catching prohibited items. It used to be a 30-minute wait to enter the stadium, that wait went to nearly 0 immediately and fan satisfaction doubled from 2.3 to 4.6 out of a 5.0 score. Other NFL teams have since adopted the technology at their stadiums.