Further overview of dynaCERT Inc. and its technology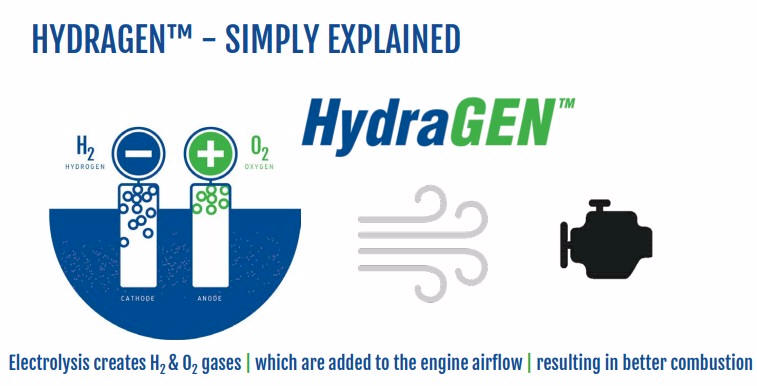 ------ ------ ------ ------ ------ ------ ------ ------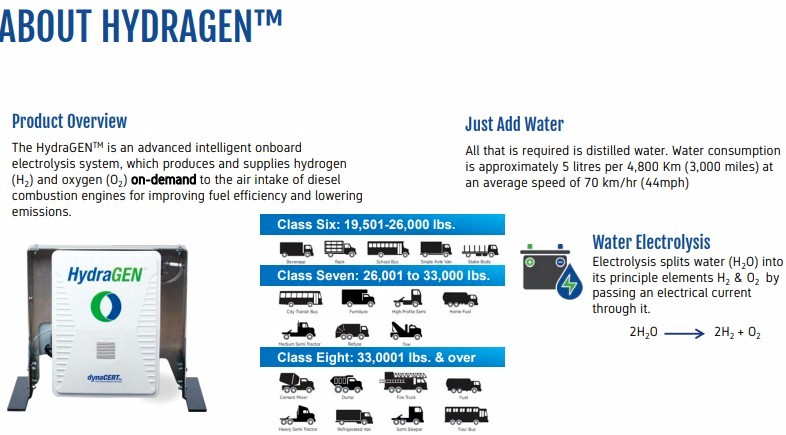 ------ ------ ------ ------ ------ ------ ------ ------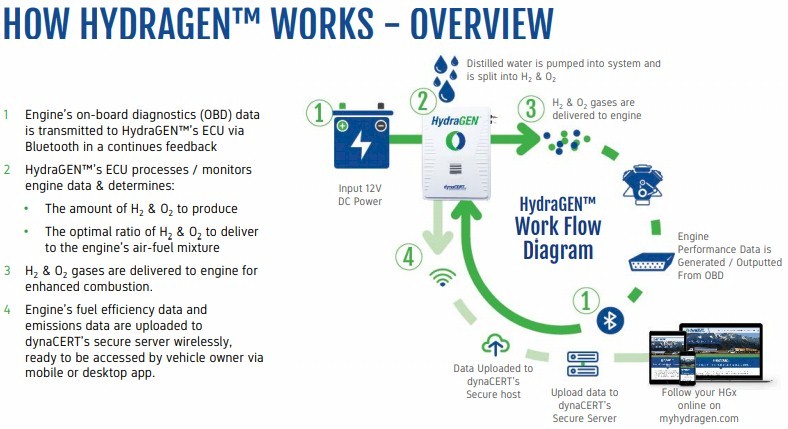 ------ ------ ------ ------ ------ ------ ------ ------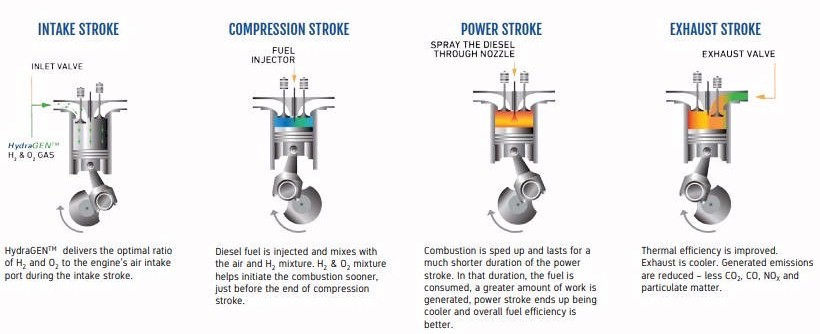 ------ ------ ------ ------ ------ ------ ------ ------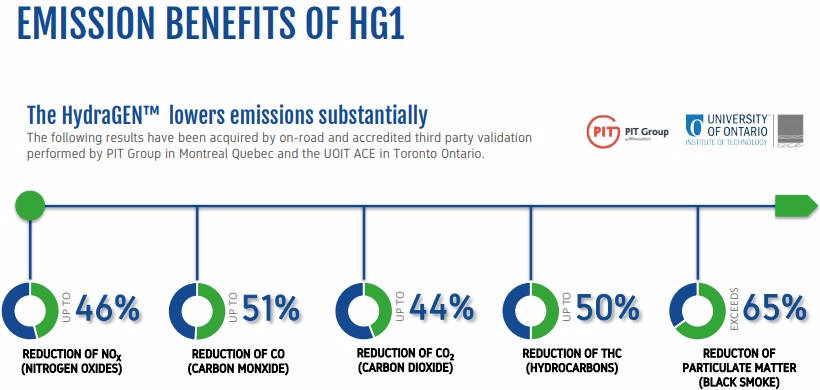 ------ ------ ------ ------ ------ ------ ------ ------
------ ------ ------ ------ ------ ------ ------ ------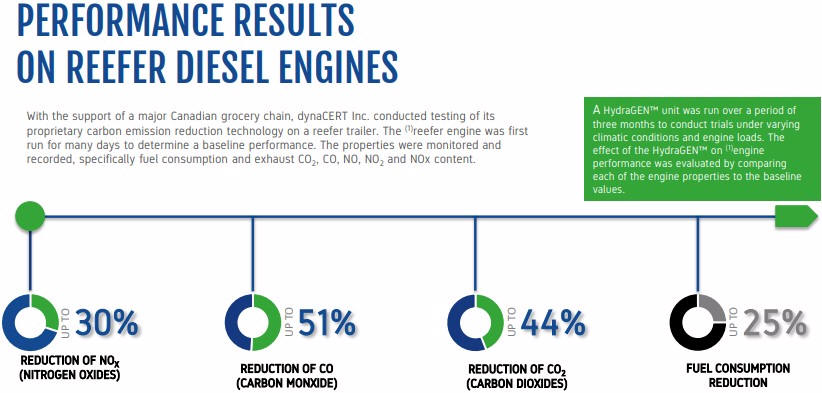 ------ ------ ------ ------ ------ ------ ------ ------
------ ------ ------ ------ ------ ------ ------ ------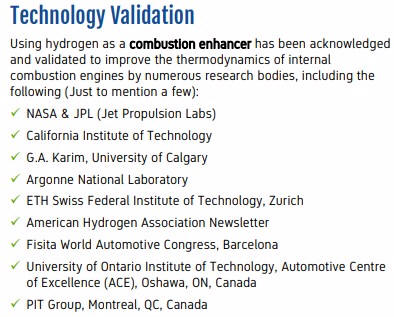 ------ ------ ------ ------ ------ ------ ------ ------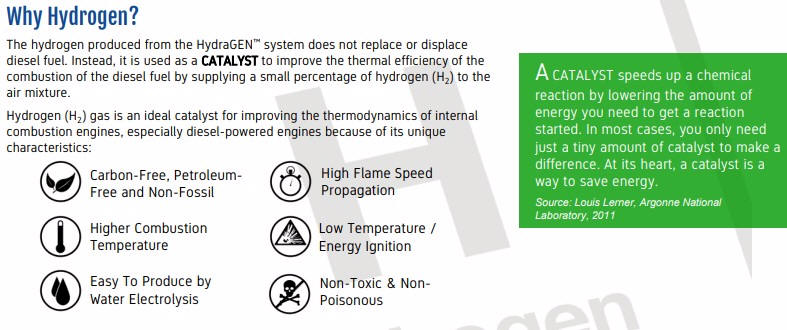 ------ ------ ------ ------ ------ ------ ------ ------
------ ------ ------ ------ ------ ------ ------ ------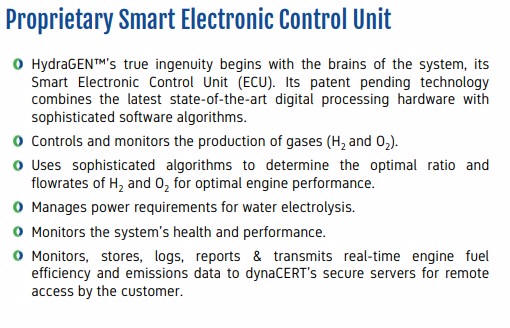 ------ ------ ------ ------ ------ ------ ------ ------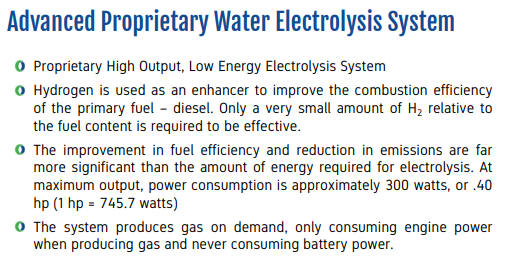 ------ ------ ------ ------ ------ ------ ------ ------
------ ------ ------ ------ ------ ------ ------ ------
------ ------ ------ ------ ------ ------ ------ ------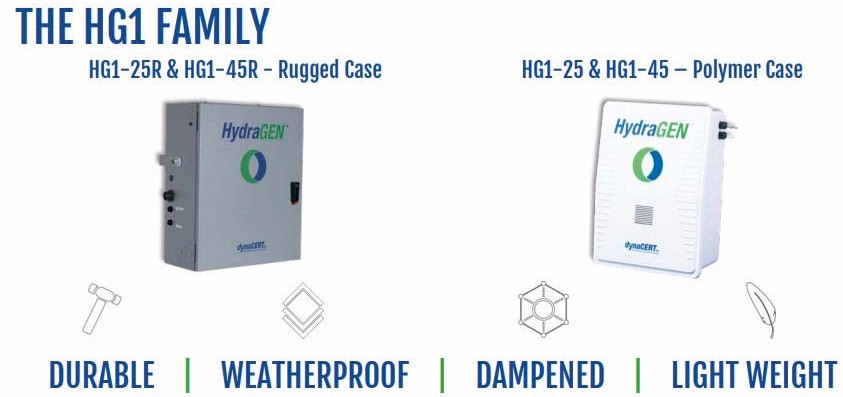 ------ ------ ------ ------ ------ ------ ------ ------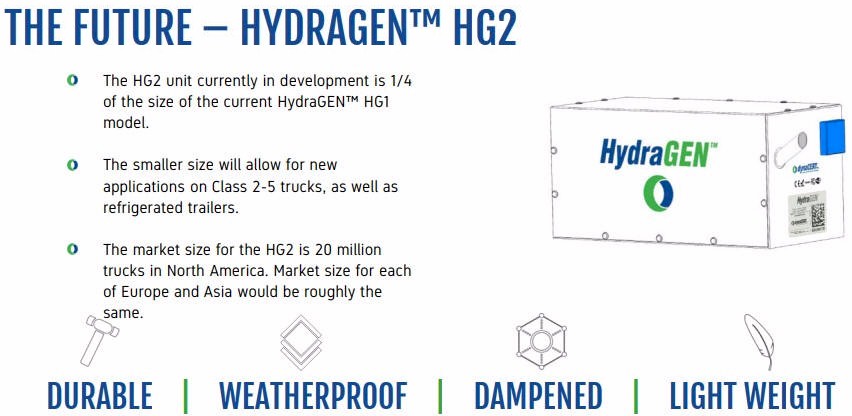 ------ ------ ------ ------ ------ ------ ------ ------

------ ------ ------ ------ ------ ------ ------ ------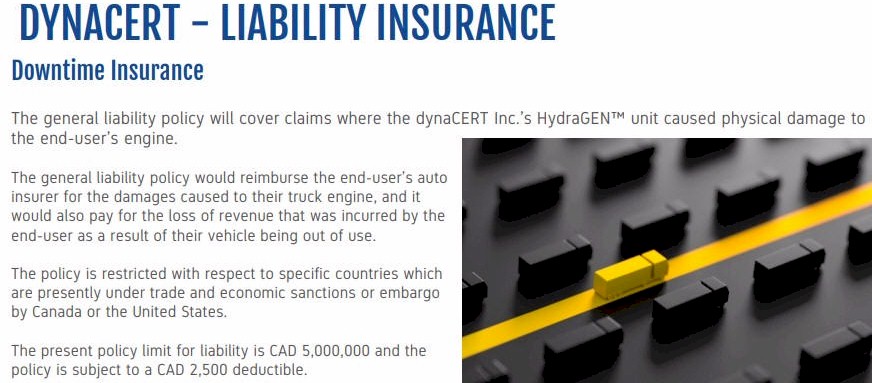 ------ ------ ------ ------ ------ ------ ------ ------
------ ------ ------ ------ ------ ------ ------ ------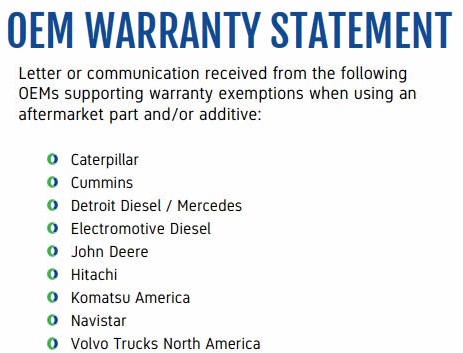 ------ ------ ------ ------ ------ ------ ------ ------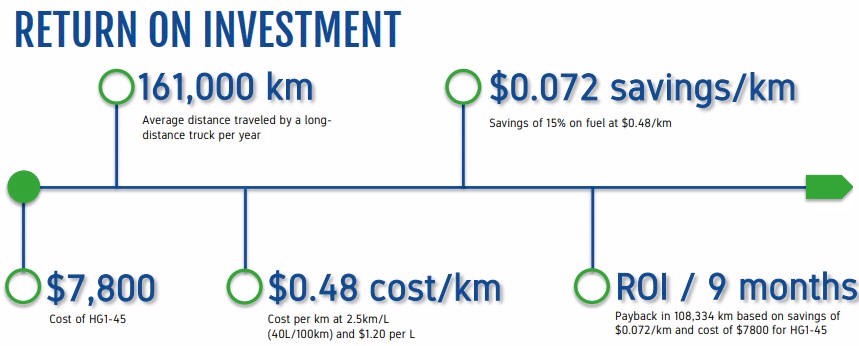 ----- ------ ------ ------ ------ ------ ------ ------
On a newer, possible second front, dynaCERT is exploring targeting 'off-grid' energy solutions

dynaCERT is positioning itself to become a world leader in research and development of hydrogen based technology solutions and is achieving this through non-dilutive government funding. Falling costs in solar, rechargeable lithium-ion batteries, and fuel cells are at a point in time whereby the confluence of all three technologies into an affordable, viable, coordinated fashion is a technology whose time is here to 'cut-the-cord' for potentially millions of homes in the future and offer standalone solutions.
dynaCERT's 'Off-Grid' Power Solutions Project
The following diagram shows an example of how dynaCERT's HydragenTM technology fits into the off-grid/cut-the-cord power system it is developing to provide renewable energy to the housing industry (also applicable to office spaces and industrial uses):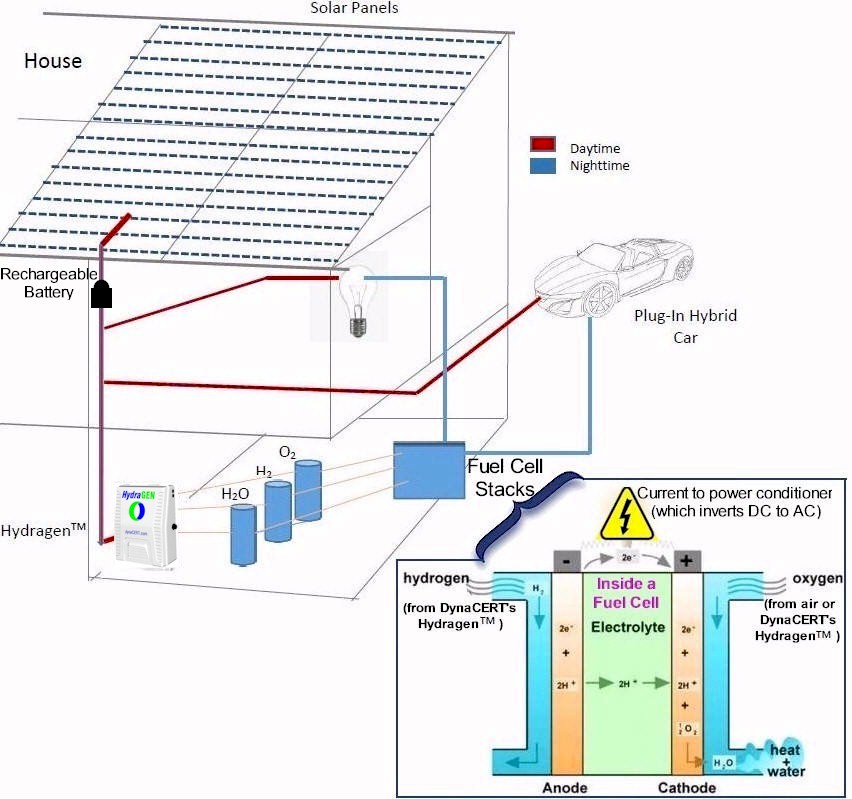 Figure 1. (above) dynaCERT 'off-grid' power solution diagram with close-up view of how a fuel cell functions. Solar panels and/or the hydrogen fuel cell will power the building by day using an energy optimization software. At night, the rechargeable batteries would then take over and activate the Hydragen™ unit which will keep the hydrogen fuel cell operating by providing the required hydrogen gas. The solar panels would also maintain the rechargeable batteries at full capacity until they are needed at night and the cycle repeats itself. Further, the pure oxygen which is also produced by the Hydragen™ unit would be used to improve the air quality in the building.
Fuel Cell 101
Fuel cells generate power by reacting hydrogen and oxygen in the presence of an electrolyte, a non-metallic conductor in which electrical flow is carried by the movement of ions, such as proton-exchange membrane cells. They function as follows:
Hydrogen gas (produced by dynaCERT's HydragenTM) is delivered to a negatively charged anode on one side of the cell while oxygen is channeled to a positively charged cathode on the other side.

At the anode, a catalyst (often involving platinum) knocks the hydrogen atoms' electrons off, leaving positively charged hydrogen ions and free electrons.

A membrane placed between the anode and cathode only allows the ions to pass through, and the electrons must travel along an external circuit – generating an electric current.

At the cathode, the electrons and the hydrogen ions combine with oxygen to make water, which then flows out of the cell.
Cut-the-Cord Power Solutions -- an Industry that is Ripe for Rampant Growth and whose Time has Come
For the last couple decades players in fuel cell power generation sector have been involved in ongoing R&D focused on reducing cost and improving durability with the goal of eventually leading to mass commercialization/acceptance. Only a few years ago the industry experienced hydrogen fuel cell costs around $1,000 for every kilowatt of power they generated, now that cost is nearer $50 and expected to drop significantly further with technology in the pipeline (e.g. platinum-nickel alloys as catalysts (Lawrence Berkley Laboratories), and platinum with carbon silk (Ballard Power). Fuel cell technology is now at a point where in the near future, fuel cells are expected to increasingly replace conventional furnaces and electrical power utility reliance, providing homes and offices with heat and electricity, free from the disruptions associated with the utility's electric grid. Technological improvements and economies of scale associated with rechargeable lithium-ion batteries and renewable energies (such as solar) have led to lower costs/increased affordability for those technologies too, and this trend is projected to increase also. In-short, the cut-the-cord type system that dynaCERT is advancing which entails a confluence of solar, rechargeable batteries, hydrogen fuel production, and fuel cells in an affordable, viable, coordinated fashion is a technology whose time is here.
DYA.V has the Product, Wherewithal, and the People to be a Leader in the Cut-the-Cord Power Generation Sector
• Central to the off-grid power system is dynaCERT's HydragenTM: dynaCERT is uniquely positioned with an established, proven, and reliable product capable of generating pure hydrogen and oxygen individually in a timed fashion; its 3 L/minute Hydrogen unit currently in service (in the trucking industry) is able to generate voluminous amounts of pure hydrogen, and the technology is scalable, able to generate amounts for multiple larger scenarios. The Company's up-to-300 L/minute Hydrogen unit, such as the one it used on a Wartsila engine at a utility in the Caribbean, is testimony to the Company's ability to consistently, reliably, and safely deliver pure hydrogen on demand.
• Capitalized for success: The Company has stated it is the beneficiary of the push to see Canada reduce its carbon footprint; dynaCERT's May-2016 new release stated "It is an opportune time for dynaCERT to capitalize on this commitment to reduce carbon emissions and to access the Canadian and Ontario government grants and loans. As such, dynaCERT is positioning itself to become a world leader in research and development of hydrogen based technology solutions and receive available non-dilutive government funding."
• dynaCERT's off-grid power generation project is spearheaded by highly-skilled and accomplished individuals: Dr. Richard Lü, an independent director at dynaCERT, has more than 20 years of global experience in the energy industry. Dr. Lü has been involved in managing public listed companies in the area of silicon production, solar cell manufacturing and solar panel production. He has led many initiatives in energy conservation, demand response, distributed energy and other sustainable developments. Dr. Lü heads a major solar power company developing and operating solar PV projects in Canada and the USA. Dr. Lü is working alongside Dr. Richard Bower, a physicist and solar energy expert.
---
dynaCERT Inc.'s Governance and Management Skip to top
DYA.V's board of directors and management team has a well rounded combination of people that each contribute expertise in disciplines necessary for a successful organization:
Jim Payne, President, CEO and Director
Mr. Jim Payne is Chief Executive Officer, dynaCERT Inc. Mr. Payne also serves as Chief Executive Officer of his privately held consulting, project management and real-estate development company operating in the GTA and surrounding areas. Mr. Payne graduated from St. Clair College in Construction Engineering, Project Management and Estimating in 1974. He has successfully built and managed his own private companies for more than 38 years. This provides Mr. Payne with years of experience in accounting, business leadership, and the legal aspects of governance. Over the last decade Mr. Payne has taken his natural networking skills and built on them to create strong team dynamics that lead to success and generate movement. With a strong leadership presence, Mr. Payne is leading dynaCERT in a way that has helped to streamline corporate activities, generate growth, form new partnerships, and bring the corporate vision to a reality.
Jean-Pierre Colin, Corporate Secretary, Director
Mr. Colin is a corporate strategy consultant to high-growth publicly listed companies. He has been a recognized senior securities industry executive and effective investment banking professional providing financing and mergers and acquisitions services to numerous prosperous issuers in Canada. As a result of his extensive financial background throughout his career, he has been called to lead teams of corporate finance professionals at national securities dealers, such as Richardson Greenshields, JP Colin Securities, Deacon Capital, Octagon Capital and Desjardins. He has also served as a high-profile corporate board director and C-suite executive of numerous public companies, often chairing audit committees, compensation committees and corporate governance committees, including with Premier Gold Mines; Wolfden Resources, sold to Zinifex for over $350 million; Virginia Gold whose Eleonore property was sold to Goldcorp for over $ 1 billion; and, Pelangio Mines, the former controlling shareholder of Detour Gold, one of Canada's largest gold mining operations. Mr. Colin holds a DCS from McGill University where he studied Biology & Engineering, an MBA from the University of Western Ontario, a Law Degree from the University of Ottawa and also practiced corporate law prior to his investment-banking profession.
Robert K. Maier, MBA, P.Eng, COO, Director
Robert Maier is a Mechanical Engineer who has spent over 30 years building machinery and technology companies. He served as president of MKG Inc., Kaperal Corp, and Semco Technologies which are all Ontario Companies. He was also the COO of MTA, a coal-mining equipment manufacturer in Pittsburgh. In addition he has served as VP Manufacturing for Skyjack Inc. and VP and director for Puma Engineering. All these companies developed and manufactured technology locally and shipped the products worldwide. Since 2011 he has been the President of SPS North America.
Ronald Perry, B. Comm, B.A., CA, Director
Mr. Ronald Perry has almost 30 years of accounting, financial and entrepreneurial business experience in high technology, venture capital and merchant banking companies. Since the year 2000, Mr. Perry has been the Founder and serves as President of Briolijor Corporation, a financial consulting company to both private and public corporations. Mr. Perry has been involved in all facets of business including statutory reporting, internal controls, legal aspects as well as all administrative responsibilities. Mr. Perry serves as a Director of Manitex Capital Inc. and Pinetree Capital Inc. Mr. Perry is a Chartered Accountant and holds a Bachelor of Commerce in Accounting from the Concordia University and Bachelor of Commerce in Administration from the Concordia University. As a Director with dynaCERT, Mr. Perry serves as the chair of the Audit Committee.
R. Wayne Hoffman, CA, Director
Mr. Hoffman has served as a member of the Corporation's Business Advisory Committee since October 2007. He is a Chartered Accountant and business executive with one of America's finest companies, Deere & Company, a corporation that is customer driven and places a heavy emphasis on quality and teamwork. He served as Vice-President, Finance at John Deere Limited for 25 years and President of John Deere Credit for over 8 years. As well, Mr. Hoffman spent two years in Deere & Company's Business Development Dept. responsible for mergers and acquisitions. In his public service, Mr. Hoffman is volunteering as Treasurer of Christians For Israel, Canada, responsible for Planning and Development.
Richard Lu, Director
Richard has more than 25 years of global experience developing and implementing business strategies for organizations in North America, Europe and Asia. He has extensive experience in the energy industry. He was the President of Sky Solar (Canada) Ltd., and a Managing Director at Sky Solar Holdings Co., Ltd. Richard was the VP of Business Development at ARISE Technology Corporation, where he was instrumental in securing its long-term supply chain funding of close to $1 billion dollars. Richard also previously held the position of Chief Conservation Officer and VP of Toronto Hydro Corporation, where he developed and executed a sweeping portfolio ($110 million) of Conservation, Demand Management and Distributed Energy programs and was instrumental in creating an energy conservation culture in Ontario. Prior to that he was the Vice-President of Environment, Health and Safety, ensuring Toronto Hydro Corporation's commitment to providing a safe and healthy workplace for employees and the strategies for achieving sustainable development and growth are successfully met. Richard has held senior positions with Enbridge Gas Distribution, Husky Injection Molding Systems Ltd., and Dillon Consulting.
Elliot Strashin, Director
Dr. Elliot Strashin brings with him a wealth of experience across a number of industries. His involvement with public mining companies began with Maple Minerals Inc. from 1996 - 2001, where he served as a director. In April of 1999 he joined the board of Canadian Golden Dragon Resources Ltd. as Corporate Secretary and became President and CEO in January of 2000. He continues to serve Dragon under its new name, Trillium North Minerals Ltd., as CEO and President. Dr. Strashin is also CEO and President of Strashin and Sons Limited, a private real estate development company that specializes in LEED1 certified, green building. dynaCERT's plant and offices are located in one of these buildings. In keeping with his green focus, Dr. Strashin has also involved himself in green technologies as a co-founder of Ellsin Environmental Ltd., which has built a prototype tire recycling plant in Sault Saint Marie and is a wholly-owned subsidiary of Environmental Waste International Inc. He is also a 50% shareholder and Chief Financial Officer of Puma Hydrocarbons Inc., a company whose purpose is to promote and generate sales for green technologies, including dynaCERT products.
Amir Farahi, Director
Amir Farahi is a Government Relations and Public Affairs consultant. He is the Principal at Blackridge Strategy Inc. ("Blackridge") one of the largest Government Relations firms in Southwestern Ontario. Blackridge has established a strong working relationship with all three levels of government in Canada, Federal, Provincial and Municipal, and has a solid track record with its clients in real estate, construction, labour, health care, and heavy industrial industries. Amir was a senior advisor to Fanshawe College and was instrumental on the establishment of its innovation centre which led to the creation of Fanshawe's Innovation Village i4C Hub in Q4 2018. This is a one stop centralized shop that supports and provides services through the Centre for Research and Innovation, the Library research team, the Canadian Centre for Product Validation, Centre for Advanced Research in Biotechnology and LEAP junction to innovators on campus. Amir was a columnist for 3 years for Metroland Media Group, a subsidiary of TorStar Corporation and his columns were amongst the top read every year as ranked by the editorial team. He was a political commentator for Bell Media Inc. and has appeared regularly on Newstalk 1290 CJBK radio and CTV News in London. He was also Chair of the City of London's Transportation Advisory Committee at a time when the City was planning a $500 million investment to implement Bus Rapid Transit. The project is part of the City's 2030 Transportation Masterplan which is currently being implemented. Amir is the Executive Director of the London Institute, an organization that in partnership with Farhi Holdings Corporation, TechAlliance and London's Small Business Centre, has planned a $31.5 million entrepreneurship centre, (180,000 square feet) the largest in Southwestern Ontario. The entrepreneurship centre's services will be built around TechAlliance (Regional Innovation Centre) and the London Small Business Centre, who will both be moving into the building's first floor to provide entrepreneurs with one-stop access to supports, services, and workshops. TechAlliance will house its Immersive Digital Experiences Accelerator (IDEA) providing incubation and acceleration for the next generation of local video game developers and BURST for high-potential medical technology startups and scale-ups that will position London as a focal point for life sciences innovation. BURST provides intensive support to 30 companies, including approximately $3 million in cash and in-kind support. Amir was also a Co-founder of FillSpaces Technologies Inc., which was a recipient of Ontario Centre of Excellence funding for its artificial intelligence and machine learning applications to its sales verticals and marketing channels. The company was funded by Western University's business incubator (Propel) and accelerator. Amir has a Bachelor of Arts in Political Science from Western University. During his time at Western University, Amir founded the King's University College Undergraduate Research Journal, a peer-reviewed publication by faculty showcasing four of the top research papers by students.
Other - Key Management
Carmelo Marrelli, CPA, CA, CGA, CFO
Mr. Marrelli is a Chartered Professional Accountant (CPA, CA, CGA) and serves as Chief Financial Officer of a number of other Canadian public companies including some listed on the Toronto Venture Exchange and the Toronto Stock Exchange. The Company has also engaged Marrelli Support Services of Toronto, a company affiliated with Mr. Marrelli, to provide certain accounting services.
David Bridge, IT Specialist
Mr. Bridge has an extensive background in managing technology operations and multi-million dollar corporate ventures. He is an accomplished leader with extensive knowledge of restructuring and streamlining IT to increase efficiency and reduce cost. Mr. Bridge has held several senior IT positions with major firms for the past 25 years as well as successfully led teams at AMD, RBC Financials, Virgin Mobile and Blackberry. As the senior IT leader, he helped Virgin Mobile in Canada expand from a start-up to a key competitor in the Telecommunications sector. In his most recent position at Blackberry as a Director of Infrastructure, Architecture and Engineering, he led a high performance team that designed and supported large scale enterprise wide systems.
John O'Bireck, Advisory Board
Mr. O'Bireck is an engineer and business builder with both private and public company experience in the environmental sector. He is currently President and Chief Technology Officer of Sparta Group (TSX.V:SAY), a company whose mission is finding customer value from waste energy sources, through the proper application of technology and very often transforming seemingly useless waste streams into new useable forms of energy. He previously served as Vice President at a number of industrial control engineering firms and guided several companies from inception, including Hy-Drive Technologies Ltd. Mr. O'Bireck has an engineering degree from Ryerson University and currently is on the board of Ethema Health Corporation and Newport Environmental Technologies Ltd. Mr. O'Bireck states, "During my years at Hy-Drive, I spent many hundreds of hours working specifically with hydrogen enhanced combustion, especially as it related to compression ignition engines. We not only had to figure out how it worked but also why it worked. And the bottom line is that without question, hydrogen most definitely can increase the operational efficiency of diesel engines and also generate a significant reduction in emissions. I look forward to engaging with dynaCERT to deliver a technology whose time has come."
Brian Semkiw, Advisory Board
Brian was a founder of Rand Worldwide, a CAD/CAM/CAE/PLM software/service provider to the engineering and manufacturing marketplace serving flagship customers such as John Deere, Nortel and Chrysler. As CEO, Brian led the company to a successful IPO on the TSX in 1993.The company was consistently one of the fastest growing companies in the country for more than a decade. In 2007, Brian co-founded one of the most innovative Fintech companies in the world, Carta Worldwide. Carta had numerous break-through achievements in the payments processing marketplace with such customers as MasterCard, Vodafone, TransferWise and ApplePay. Most recently, Brian and Rui Mendes co-founded 3rdGP, the world's first third generation processing payments company with emphasis on Blockchain and IOT payments processing solutions. Brian has an Engineering Degree from University of Toronto, has served on the Deans Advisory Board at University of Toronto and on the board of Leitch Technologies. Mr. Semkiw said, "What has drawn me to dynaCERT is the opportunity to merge two distinct disciplines, Engineering/Manufacturing and Payments Processing. dynaCERT has engineered an excellent product that has numerous benefits for its customers, but most significantly, is the impressive reduction of toxic greenhouse gases (GHG). I see my job as helping the company to monetize those reductions with Fintech innovation not present in the world today. Digitizing the complete process, from the tokenization of carbon credits to their trading on the existing openly regulated currency exchanges is not only an immense potential for dynaCERT but is a massive opportunity with multi-government tailwinds already predisposed to the success of the project. This is a very exciting time for dynaCERT and I am very pleased to be part of the team."
Note: This list is not intended to be a complete overview of dynaCERT Inc. or a complete listing of dynaCERT Inc.'s projects. Technology MarketWatch urges the reader to contact the subject company and has identified the following sources for information:
For more information contact dynaCERT Inc.'s head office at: Ph (416).766-9691
Company's web site: www.dynacert.com SEDAR Filings: URL
Welcome to Technology Market Watch Journal
Technology MarketWatch provides insight into growing and highly prospective technology companies, many which are so often overlooked/flying under the radar, and can provide exceptional potential to richly reward investors. The companies we select offer outstanding prospects and experienced management.
Sector NewswireTM